The Chargeback report shows a comprehensive list of invoices that were either fully or partially charged back to your Denim Cash account due to aging or nonpayment from your customer.
Here's what you can see in the report:
Open tab shows invoices where your customer has still not paid in full, even though the invoice is closed out. These are invoices that you can reach out directly to your customer for payment, which will in turn result in a reimbursement to your Denim Cash account.
Settled

tab shows invoices where your customer has paid after the chargeback occurred. That is why the "total" column shows $0 for chargeback - there is nothing more for you to act on.

Hidden tab shows open chargebacks you've chosen to ignore. This status can be used for invoices on which you don't wish to pursue collections from your customer.
Total

shows the amount of

all

invoices, either open or settled. This way, you know the exact breakdown of all invoices, payment, and chargebacks that will change based on selected filters.

Interactive Filter

allows you to search for a specific payment type, chargeback amount, Job Reference number, or a combination of the three! All within a specified transaction window. Exporting the table will keep the selected filter criteria, so you can control exactly what you are downloading.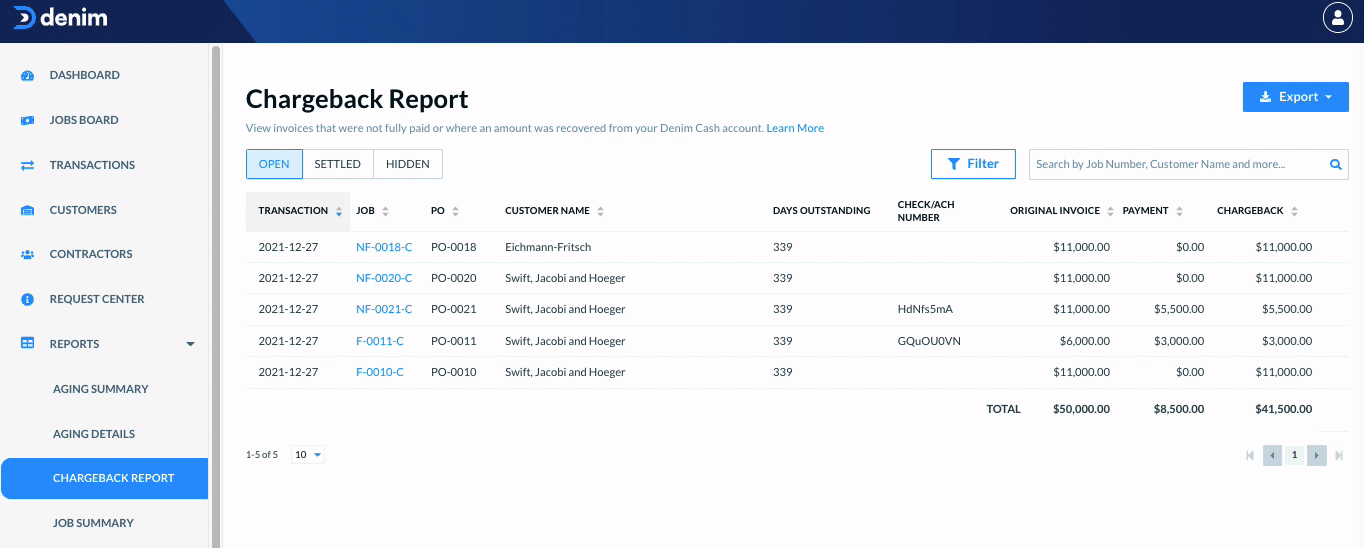 *Note - Transaction column shows the last transaction for that specific invoice
Using the Hide function
You can remove open charged back invoices from your Open list if you don't wish to purse collections from your customer. This may be useful if the amount is negligible or you know the invoice can't be collected on.
There are two ways to hide an invoice from the open list:
Click anywhere in the row to open the details of the invoice. Next to the Open status, you can select Hide.
Hover your cursor in the space on the right side of an invoice row, next to the chargeback amount, and click the Quick Actions menu (three vertical dots). This will open the option to Hide.