We are excited to introduce Denim Audit! Denim Audit saves you from the task of manually reviewing documents, and flags potential issues on your jobs to save the headache of a job needing your attention later for corrected paperwork. Read on to explore the capabilities and step-by-step instructions for using this powerful addition to your SmartBroker toolkit.
Feature Overview:
Denim Audit is housed in the Job Details view, accessed by clicking on a job from your Jobs Board. With Denim Audit, you can ensure accuracy, identify discrepancies, and streamline your document management process. This user guide will walk you through the key functionalities and how to make the most of this feature.
Interpreting Audit Results
Understanding the Icons:
When using Denim Audit, you will encounter the following icons which indicate audit results.
A green checkmark indicates we found a direct match between the document and your job data.
A yellow exclamation mark indicates we suspect an issue - this could mean we found a discrepancy, or that we were unable to read the document.

To see more details about the audit results, click the Audit Summary heading. Here you will find a detailed list of the audited documents, sorted with any suspected issues first.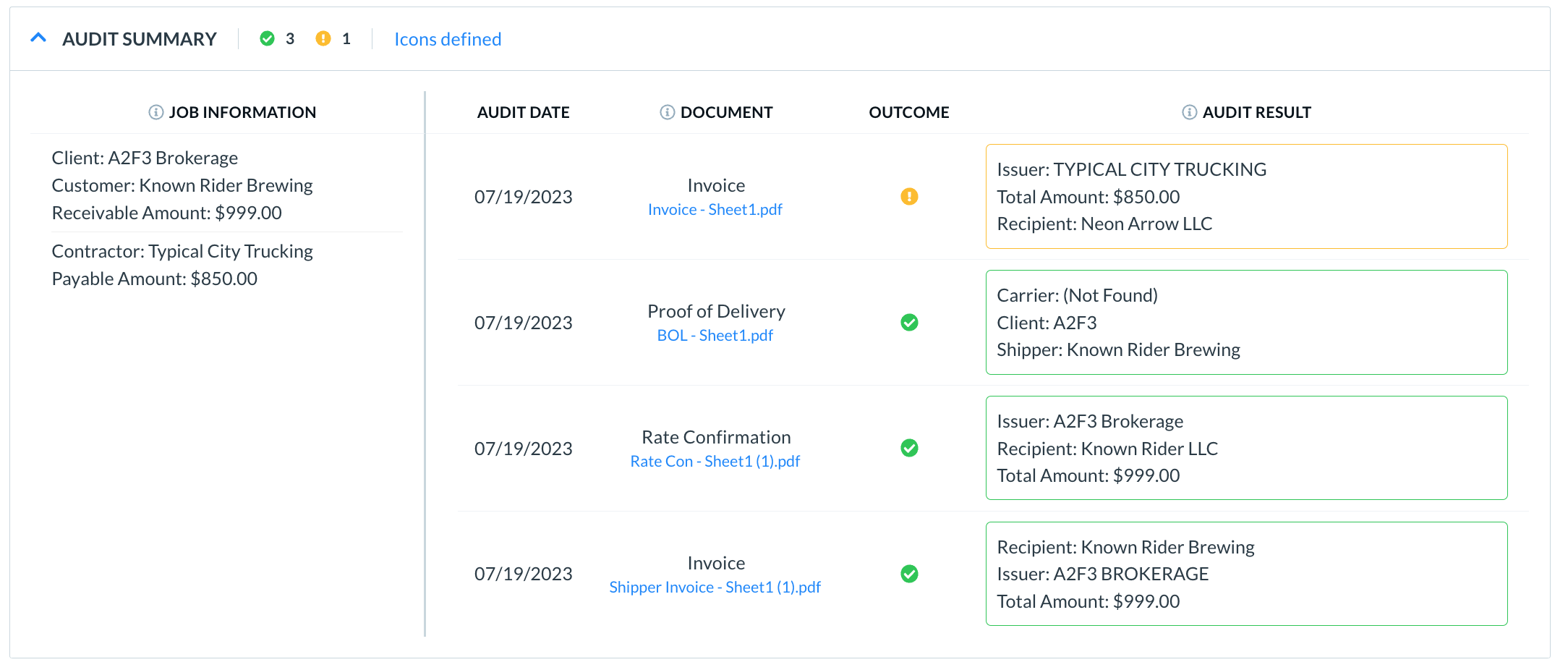 The Job Information column displays key details extracted from the job information you entered. These are the data points that our audit is comparing against.

Note: You will see your company name listed here as well. This is because we know that customers and contractors often list your company to represent the counterparty since you arranged the load.

The Document column displays the classification of each document, along with the file name as uploaded.
The Outcome column displays the audit result indicator for Pass or Suspected Issue.
The Audit Result column displays the data our audit extracted from the document. Matched audits are indicated by a green border, while suspected issue audits have a yellow border.
How are audits conducted?
Denim Audit works in three steps, all completed in seconds!
First, we read the document and classify the document type - proof of delivery, invoice, rate confirmation, or other.

Second, we identify the key information from the document:

Proof of Delivery

Origin Name
Recipient Name
Issuer Name
Shipper Name
Carrier Name

Invoice

Issuer Name
Recipient Name
Total Amount

Rate Confirmation

Issuer Name
Recipient Name
Total Amount

Other

The process stops at classification and no audit is performed

Finally, we compare the extracted values (from step 2) to the job information you entered to provide an audit result.
We hope that we've answered all of your questions about how to use Denim Audit, and how it works. If you have any further questions or require assistance, please don't hesitate to reach out to our support team via chat or email. If you have product feedback, please contact us at product@denim.com.